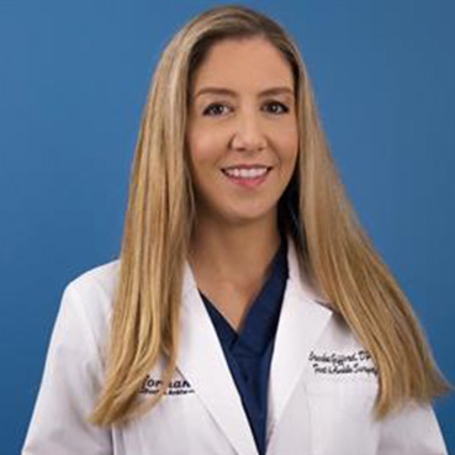 Dr. Brooke Gifford, FACFAS
Bio
Board Certified, American Board of Foot & Ankle Surgery
Dr. Brooke Gifford was born and raised in eastern Iowa. She earned a Bachelor of Arts degree from Luther College in Decorah, IA in 2002 and her doctorate with honors from the California School of Podiatric Medicine in Oakland, CA in 2007. She completed a comprehensive three-year foot and ankle surgical residency at Legacy Hospitals and Kaiser Permanente in Portland, OR. Her training included forefoot and rearfoot reconstructions, elective foot and ankle surgery as well as trauma.
The Pacific Northwest rain was too much for her so she moved back to sunny California in 2010 and has been practicing in the Thousand Oaks area ever since. She enjoys traveling, yoga and spending time with her family. Dr. Gifford is a member of the American Podiatric Medical Association, California Podiatric Medical Association and the American College of Foot and Ankle Surgeons. She is board certified in Foot and Ankle Surgery and Reconstructive Rearfoot /Ankle Surgery by the American Board of Foot and Ankle Surgery®.
In Her Practice
Dr. Gifford treats all types of acute or chronic foot and ankle problems. She has a particular interest in trauma including toe fractures, nail injuries, ankle sprains, and all foot/ankle fractures. She especially also has significant experience in removing foreign bodies (glass, toothpicks, metal, etc) which can often be performed in the office without anesthesia. She also specializes in sports medicine and reconstructive foot surgery.
Dr. Gifford starts with a conservative approach including custom orthotics, taping, padding or modification of your existing orthotics when possible. She is very adept with steroid injections and will give those when appropriate. Dr. Gifford considers surgery to be a last resort, but if necessary, she is highly trained in all aspects of foot and ankle surgery.
Dr. Gifford's number one priority is spending quality time with patients. She truly listens to their concerns, educates as much as possible about the nature of the condition and offers all viable treatment options. She wants patients to feel completely comfortable while in the office and completely satisfied upon leaving!