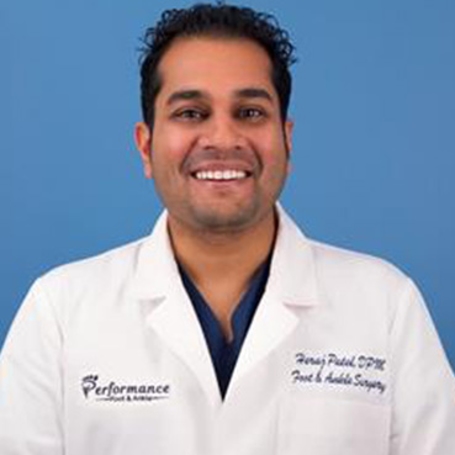 Dr. Heraj Patel, FACFAS, FACPM
Bio
Board Certified, American Board of Foot & Ankle Surgery
Board Certified American Board of Podiatric Medicine
Dr. Heraj Patel was born and raised in London, England. He moved with his family to California and graduated from Oak Park High School. He earned a Bachelor of Science in Biology with a minor in Psychology from the University of California at Riverside. Always drawn to healthcare, he then obtained his doctorate from Kent State College of Podiatric Medicine in Ohio. Dr. Patel completed his education with a foot and ankle surgical residency at the Veterans Hospital of Palo Alto. The residency program involved hands-on training in all specialties at Stanford Medical Center, Kaiser Permanente, Bay area surgical centers, and various private offices.
In His Practice
He is Board certified by the American Board of Podiatric Medicine and Foot & Ankle Surgery. His passions as a foot and ankle specialist include:
Sports-related injuries
Ankle sprains
Ligament ruptures
Heel pain
Diabetic limb salvage with a primary focus on non-surgical techniques
He also has surgical training in reconstructive foot and ankle procedures for bunions, hammertoes, flat feet, high arch feet, chronic arthritis, ankle trauma, and arthroscopic techniques.
Dr. Patel speaks both English and Gujarati. He enjoys educating his patients about their foot problems and conservative as well as surgical treatment options. Dr. Patel believes that the better educated a patient is about their health the better their overall outcome and lifestyle will be.
Dr. Patel is excited to serve the Thousand Oaks community both in the office and outside. He lives in Thousand Oaks with his wife and two kids and loves to play 'English' football and cricket.